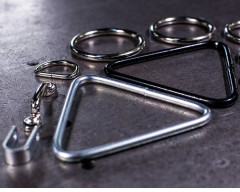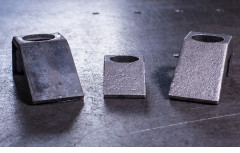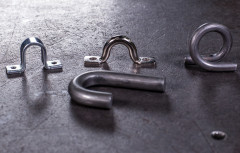 Montague Latch Company offers customers a number of accessories related to, but not exclusive to, the use of latches and cables.
Following is a list of accessories and components we commonly sell:
Brackets
Latch brackets are used as an attachment method for latches when welding is not feasible. The bracket should be welded to the latch to prevent the latch from moving.
Cable Fittings
We stock a number of different cable fittings, most of which are used in the production of our cable assemblies. For information on our cable assemblies please visit our Cable Assemblies page.
Cable Guides
We offer a selection of cable guides which are used to keep wire rope cable assemblies securely in place. Our cable guides are inexpensive and easy to install.
Dunnage Stops
These are used to hold dunnage in place.
Latch Ramps
Make any spring-loaded latch a "slam-latch" regardless of the style of plunger. Our latch ramps act as both ramp and receiver for our latches.
Rings
Solid rings are constructed out of heavy gauge wire with butted and fused ends. They can be attached to cable loops or existing rings on a latch. We stock round, triangular, and "D" shaped solid rings.
We also provide key rings in a variety of sizes and materials along with open rings and split rings.
Rivets
We carry a small selection of structural rivets and semi-tubular rivets.
Roll-pins
We stock a limited assortment of roll-pins. If and when inquiring about our inventory, please specify diameter, length, material, and finish required.
Rubber Hose
Rubber hose is used to provide an ergonomic handhold for cable assemblies. We can supply it custom-cut, or you may purchase it by the foot. We also stock several different lengths.
S-Hooks
Our S-Hooks are made from 9 gauge wire and are clear zinc plated. Most applications require the "S" to be closed and welded after installation.
Springs
We carry an assortment of springs. Options available are stainless steel, plain music-wire, and zinc plated music-wire.
The products listed above can be purchased in any quantity desired; however, minimum order amounts may apply. Additionally, many of the components of our latches and cable assemblies may be purchased individually.